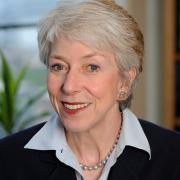 Christine Cassel, MD
Christine K. Cassel, MD, MACP – a national leader in geriatrics, professionalism, and health care quality – is a 2018-2019 UCSF Presidential Chair and she will spend a portion of her time consulting with our UCSF Program in Bioethics. Her range of experience—as a chair, dean and national policy leader—will be a boon for the program.
Since seeking out bioethics fellowship training with Albert Jonsen, PhD, during her UCSF residency, Dr. Cassel has been a pioneering figure in many areas that touch on ethical concerns in health care. She led the Institute of Medicine's first major report on care near the end of life, which was central to the development of palliative care as a specialty. As chair of the Medical Advisory Committee of the Greenwall Foundation – the leading funder of ethics scholarship in health care – Dr. Cassel has shaped a generation of bioethics funding across the U.S. Her breadth of knowledge and experience in bioethics funding will be invaluable to our efforts.