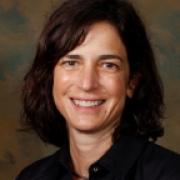 Emily Finlayson, MD, MPH, MS
Dr. Finlayson is a Professor of Surgery and Health Policy, Vice Chair of Faculty Affairs and Development and Director of the UCSF Center for Surgery in Older Adults (CSOA). Her clinical areas of expertise include colon and rectal cancer, ulcerative colitis and Crohn's disease, with a focus on minimally invasive surgical techniques.
After completing her medical degree at Harvard Medical School, Dr. Finlayson trained in general surgery at UCSF and in colon and rectal surgery at the Mayo Clinic in Rochester, Minnesota. In her post-doctorate training, she received a Master of Science from the Center for Evaluative Clinical Sciences at Dartmouth Medical School and completed a research fellowship with the VA Outcomes Group in White River Junction, Vermont.  She was on faculty at the University of Michigan Department of Surgery and the Michigan Surgical Collaborative for Outcomes Research and Evaluation until she returned to UCSF in 2009. Her current research is in population-based surgical outcomes with a focus on functional outcomes in the frail elderly.
Dr. Emily Finlayson is also Director of the Department of Surgery Faculty Mentoring Program, one that facilitates the development and implementation of robust career plans for incoming faculity. She is also  Co-Chair of the Data Registry Subcommittee for the The Coalition for Quality in Geriatric Surgery Project.